NES CLASSIC
The NES Classic might be one of the hottest items this year! The system came out a few months ago and has been a steady seller ever since. It's a tiny version of the original Nintendo Entertainment System that contains 30 of the best games from back in the day, including Super Mario Bros, Donkey Kong, Zelda, Kirby and more! Take a trip down memory lane with some of the best Nintendo games ever!
THE BEATLES – EIGHT DAYS A WEEK BLU-RAY/DVD
Ron Howard directed this new documentary that follows The Beatles during the height of Beatlemania from 1962-1966. It contains new interviews with Paul and Ringo, archival interviews from John and George and lots of folks who surrounded the band during that time. It also contains classic concert footage that shows just how many screaming fans drowned out the band at almost every show, which caused the band to quit touring in 1966.
SPHERO BB-8 w/FORCE BAND
The Sphero BB-8 is an app controlled droid that was a huge hit last year after the release of Star Wars: The Force Awakens. Now the droid has been updated with the Force-Band, a wrist mounted device that allows you to control BB-8 with your hands! Just like a Jedi using the Force!
PINK FLOYD – THE EARLY YEARS 1966-1972 BOXSET
This $600 boxset might set you back a bit, but it's totally worth it! This is a treasure trove of Pink Floyd music, from the band's inception up to 1972 before the release of Dark Side of the Moon. There's over 11 hours of audio and 14 hours of video on 27 discs, including unreleased songs, concert footage, and exclusive vinyl reissues of some of the band's first singles. Tune in, drop out and get ready to listen to a TON of Pink Floyd!
CLUE: STAR WARS EDITION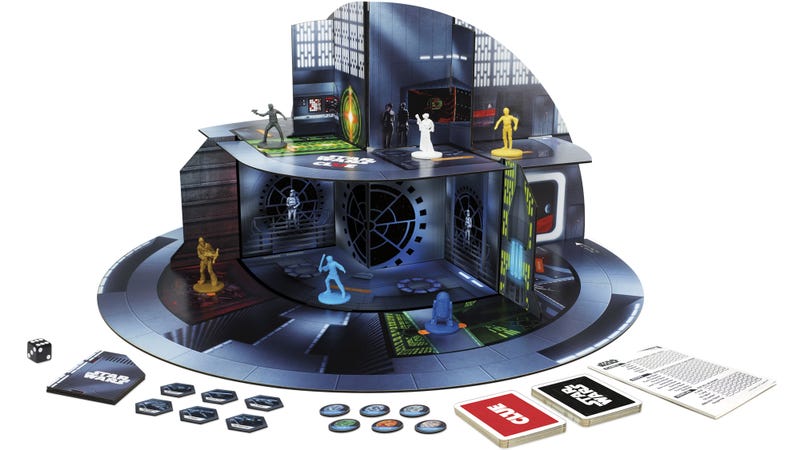 Clue is a great game, and it's even better in STAR WARS form! Instead of Colonel Mustard and Miss Peacock, you got Han Solo and Princess Leia! Instead of solving a murder mystery, you have to figure out how to escape the Death Star! The latest Star Wars film, ROGUE ONE is all about the Death Star, so this is the perfect game.
GEEKY GRAPHIC NOVELS
A lot of awesome franchises we don't see anymore in movies or on TV have found all new life in comic form! From Power Rangers to Bill and Ted and Back To The Future, these graphic novels continue these stories beyond what we saw on the screen while also being love letters to the fans. We may never see a Bill & Ted 3 or Back to The Future 4, but these come pretty close!
THE WALKING DEAD "LUCILLE" BAT REPLICA
We're all still reeling from the Season 7 premiere of the Walking Dead back in October, where villain Negan killed two key characters with his barb-wire covered bat "Lucille". Now you can take all the head bashing goodness home with you! This is a screen accurate replica that you can use to start up your own Saviors group! Blood not included.
FUNKO POP VINYL
Funko Pop Vinyl are wicked, I am an avid collector myself! You can find pop vinyl for any property under the sun, from Bill and Ted to Star Wars: Rogue One, Captain America: Civil War and even Stranger Things! These cute bobbleheads are a cheap and fun collectable, great for stocking stuffers!